Carmen Queasy is the newest solo work from from Maxim which will be released by XL Recordings as single 29th May 2000 and on his forthcoming album 'Hell's Kitchen' (due 11th September 2000 tbc.).

The track is a collaboration with Skin from Skunk Anansie and features both, Skin and Maxim, on vocals. You can now download the promo video in MPEG format from nekosite!

For the lyrics of Carmen Queasy go [HERE]
THE VIDEO
[DOWNLOAD CARMEN QUEASY VIDEO HERE (35MB)]
Very special thanks for the file to Cameron Brooks!
Use Windows Media Player to watch the MPEG fullscreen on your computer.
While downloading, make sure you read the article and interview Maxim gave for Zillo magazine [HERE]
THE CD SINGLE
The CD single with the Catalogue number xls 119cd has the following tracklisting:
1.Carmen Queasy – original mix
2.Carmen Queasy – digital dubz digi dub
3.Carmen Queasy – instrumental
Various Promos with one, two or three tracks have also been available for quite a while now.
Scans of the artwork (click on the image to see it full-size):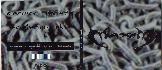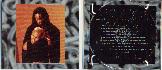 Guitars on Carmen Queasy are by Kieron Pepper, most of you are probably familiar with him as Prodigy live drummer. It isn't so unusual for him to play guitar though, then although he is known mainly for playing drums, he plays guitars and is singing in his own band Happy Gilmore.
THE GUITAR TABS
Thanks to Morten Nielsen you can now check out the guitar tabs for Carmen Queasy:
THE PROMO
Only for few days: preview on Maxim's new single in streaming Real Audio
Carmen Queasy (Digital Digi Dub)
Carmen Queasy Instrumental Mix
Also a scan of the ad for Carmen Queasy (released 29th May 2000 by XL Recordings) is available:
Many thanks to Spencer for scans and the soundfiles