| | |
| --- | --- |
| | nme 14/5/02 |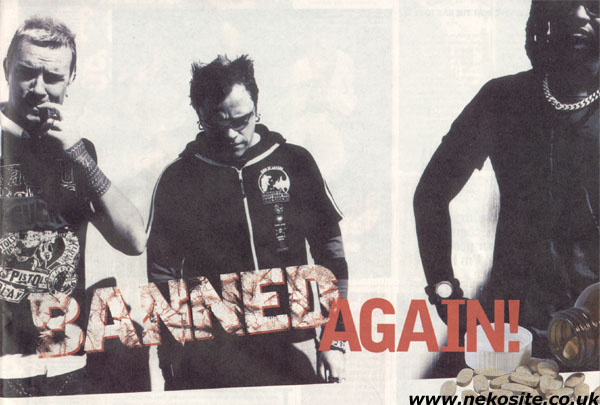 NME in their current issue have a nice little piece about The Prodigy's forthcoming single Baby's got a Temper. They explain why the song is so controversial and explain that therefore it will be banned on most Radio stations. We kinda knew all that already, but the text now also features quotes by Liam Howlett and Keith Flint, explaining the track.
Here some of the quotes from the article:
Keith Flint: "I don't know its true medical title. Have I tried it? Oh yeah, absolutely. That's what the song's about. It's a reflection on going out, maybe doing cocaine, then doing downers. Y'know, some people do all manner of downers and Rohypnol is one of them."
Keith Flint: "If I wanted Rohypnol, I could get it off girlfriends of mine, so I wrote about that, how punk they are. I respect that. A lot of girls I know are more out there than guys. The song is just thoughts summoned up about nights out, getting high, bringing yourself down again. In its original format, it was quite a slow, drugged-out sort of song. Almost smacked out - which I wasn't doing myself, at all. But That's where it was coming from."
Keith Flint (about radio ban): "I don't really care. If I'm writing a tune, I have to visualise it onstage, not on Radio 1."
According to NME, Radio 1 commented on the single: "We always take a responsible approach to the records that we play."
Liam Howlett: "We've literally just finished it so it will be a couple of weeks until that stage. We know where we're coming from and we're not trying to change our story. This is what the record is. It's a reflection on what goes on in Keith's mad head and his mad world. The overall feel is like, Keith gets fucked up, goes out with these girls, comes back and writes a song reflecting on his nights out with these girls. he came to me with those lyrics and I'm like, 'Fucking cool'. I like it. Have I tried Rohypnol? Absolutely, yeah. It's like modern day Valium."
Keith Flint (about the lyrics 'she's gonna be pretty on money/ just like your royal family / this time there could be no funeral' in connection with the death of Queen Mum): "That was good luck, wasn't it? But that lyric is actually a statement about how hardcore these girls are."
Liam Howlett (about new Prodigy album, expeted 2003): "I've got 80 per cent of the album somewhere in my studio. I've just got to assemble it. The other 20 per cent is going to be collaborations and stuff."
To see the full article, click on the image below:
[more info about Babys got a Temper]
[go home]
www.nekosite.co.uk - copyright © 1998-2002 by neko - all rights reserved