| | |
| --- | --- |
| | No Souvenirs |
What you need to know about the Massive Attack - Prodigy collaboration, why it wasn't on the soundtrack for The Beach, when it might be released, pictures of Liam with 3D and the soundfile of a hoax...
July 2000: Over the last winter the track No Souvenirs was the biggest 'hope' for us Prodigy fans. The collaboration with Rob Del Naja aka 3D from Massive Attack was the only new track of which we knew it existed and everyone was hoping to get to hear it in February 2000 on the soundtrack to The Beach. However, it then wasn't put on the soundtrack and many music magazines as well as the official Massive Attack website announced it was going to be released as single in April 2000. Now, almost 3 month later, it still hasn't seen the light of day and no plans of releasing this track have been announced either, so you might wonder what has happened to it. Staying patient is, as always when waiting for new Prodigy material, the only thing you can do. As it seems now the track won't be released in the near future and might just be on the next Prodigy album Always Outnumbered, Never Outgunned.


3D (l.) and Liam
Here's what 3D of Massive Attack says on the official Massive Attack website (www.massiveattack.co.uk) :

3D: "Liam and I had been talking about doing something together for about a year and then we did a track each for a porn film called 'The Uranus Experiment'. Liam knew Alex Garland who wrote 'The Beach' and Liam suggested that he did the music and I wrote some lyrics for a song to go on the film's soundtrack. The track is called 'No Souvenirs' and is slightly Pink Floyd; slightly Beach Boys in places; full-on dark but very musical with some great arrangements. But in the end, we felt it wasn't appropriate for the soundtrack album. The rest of the album was too dance and pop-orientated so we pulled it. It might end up as a track on the next Prodigy album."
Now since we're all so desperate for new Prodigy material and everyone is dying to finally hear this No Souvenirs song, a few weeks ago Prodigy fan Greg Bedwell announced he had found a promo of it and gave the link to the mp3 to a few selected friends. Some people actually believed it was genuine and were a little bit shocked, e.g. Erik Westlund: "Whenever I hear this 'no no no no' it just makes me puke!"
It is very obvious a hoax but still entertaining, so you can download the mp3 (only 314kB) from here:
No Souvenir hoax mp3 - Greg Bedwell
3D (l.) and Liam in the studio: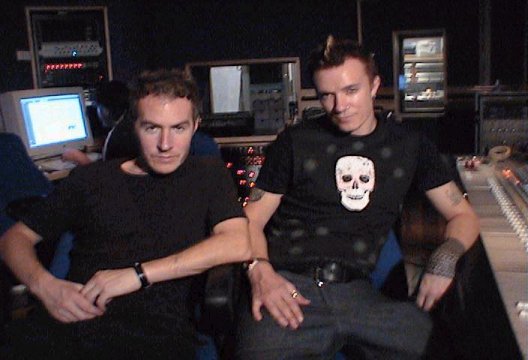 [go home]
www.nekosite.co.uk - copyright © 1998-2001 by neko - all rights reserved