| | |
| --- | --- |
| | nme Prodigy feature |
4 pages cover feature and interview in NME about Prodigy's comeback with 'Baby's got a Temper' from 19th June 2002, read it HERE!
There isn't that much new in the article apart from the usual press bla bla and the band having to justify why they wrote a track about Rohypnol. We have heard what the song is about now, especially from NME, move on. Anyway, there are a few cool quotes by Liam, Keith and Maxim especially about touring and why they are 'hungry' to gig again.
You can click on each bit from the text and it will open in a new window in full size so you can read it.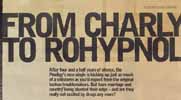 | | |
| --- | --- |
| | Apart from the above, Liam also has his own little feature in the gossip section, ahem. (see on the left). Its nicely placed right next to the BGAT advert, too. |
[go home]
www.nekosite.co.uk - copyright © 1998-2002 by neko - all rights reserved