| | |
| --- | --- |
| | the prodigy at Fuji Rock in Japan |
26th July 2002
Here a couple of reports about the gig from different sources.
Ayako, who went to the gig, reports:
"The setlist was almost same as recent gig.
but they played a tune which I had never listened to.
I didn't understand what Maxim said and Lyrics, so I have no idea.
It's hiphop tune and Maxim and Kth iewas rapping. I like it. I wonder what's the title?
Anyway, the show which was under the sky was wonderful except that
Maxim was dissatisfied with response of audience sometimes ;-)"
Fujirockers web site:
"Prodigy Assaults Thousands at Naeba
Covered with the sweat of at least 50 other people around me I bounced up and down for about 45 minutes to the deluge of sound pounding from the huge speaker stacks on the sides of the Green Stage.
The audience were getting a bit tense as Prodigy didn't appear exactly on time - fear no doubt from a flashback to a previous Fuji Rock when there was a long delay before they performed. However only 15 minutes after the scheduled start a boom of bowel-loosening bass hit us and it was on for young and old. Well that is to say the young and energetic, who were the only people I was jostling with for viewing/dancing space.
They played a mix of the old and not so old - of course the crowd went wild for "Smack My Bitch Up" and "Breathe" and bopped appropriately to the ones they didn't know so well. All of the songs were punctuated with Prodigy's quirky signature sounds and beats.
There was a huge uproar of disbelief when Prodigy left the stage before playing "Firestarter" - but to everyone's relief they soon returned and launched straight into it.
One thing that always fascinates me is when an overseas artist talks to a Japanese audience and gets frustrated because the audience doesn't completely understand what they are talking about. While this seems straight forward to me, I've seen it happen just so many times. I don't think that any interaction is a waste but maybe overseas artists should think a little bit more about what they are asking and how they phrase it to get the audience reaction they're after."
http://frf.iqi.co.jp/cgi-bin/02report/report_right.cgi?mode=one&key=1027697215

Pictures from Fujirockers web site:
http://frf.iqi.co.jp/cgi-bin/02camera/camera_right.cgi?mode=one&key=1027705383&type=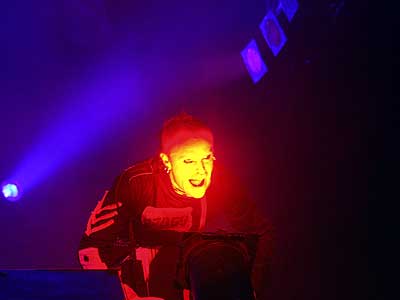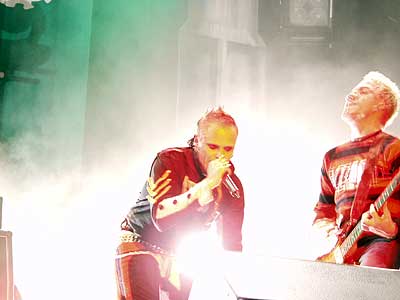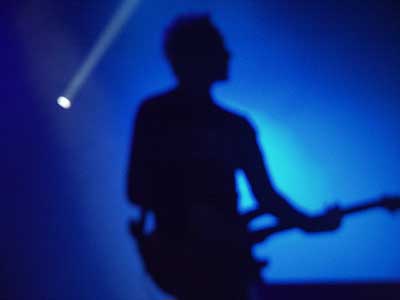 [go home]
www.nekosite.co.uk - copyright © 1998-2001 by neko - all rights reserved