| | |
| --- | --- |
| | Leeroy Thornhill |
Leeroy with Hyper Live
Leeroy Thornhill and Jim Davies are both currently touring with the live band by DJ Hyper. Both, Leeroy and Jim, as well as Kieron Pepper, were involved in the new Hyper album 'We Control' out 24th April, produced by Hyper (Guy Hatfield) and production partner Ronnie. The album also features collaborations with The Crystal Method, Dirty Harry and Wildchild.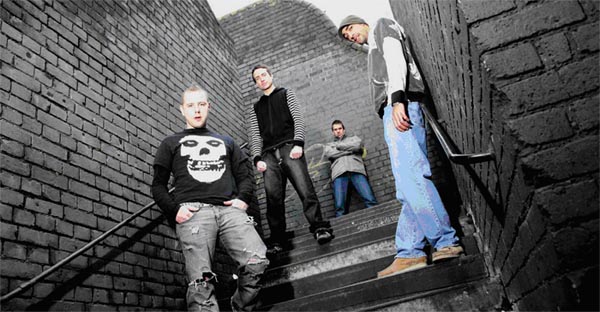 The live band (pictured above) are playing the following shows:
23/02/06 Breakspoll Awards @ Fabric LONDON
03/03/06 Japanese Album Launch @ Ageha TOKYO
10/03/06 Fabric LIVE @ Fabric LONDON
25/03/06 Nikki Beach Club MIAMI
25/03/06 Ultra Music Festival MIAMI
29/03/06 Album Release Party: Air @ Cargo LONDON
30/06/06 Roskilde Festival DENMARK
Below you can find a track by track overview of the album ' We Control' (this is taken from the press release):
WE CONTROL
Fearsome guitar rifts and tough techy beats lead by MC Xander
TWISTED EMOTION
Funk fuelled 4/4 crossover tune inspired by 80s new wave and electro, with ultra catchy vocal from Leeroy Thornhill
ANT MUSIC
Cover of awesome track from the 80s. Smashing into 2006 with slamming beats and wobbly bass lines, set to cross over. Fresh, catchy vocals from Leeroy
THIS IS A WARNING
Slowing the tempo to a hip hop style with Californias Wildchild spitting out lyrics
SET FIRE TO ME
A collaboration with million selling US techno ac The Crystal Method, this track feature female vocalist Dirty Harry and is a wash with catchy synths and f**k of guitar riffs
DIRTY MIND
Rock meets dance on a slower, darker tempo. Filthy guitar, rocking slow mo beats and fantatic vocals from our man Leeroy with Mirwais style electro riffs
MORNING
features Leeroy again giving us a melancholic vocal and feel to an otherwise totally euphoric track
NEVER STOP
Cross over record with UK rock chick Dirty Harry lives up to her name with a fine vocal performance courtesy of Sam Maloney (Hole) in LA. Kieron Pepper supplying riffs reminiscent of Iggy & The Stoogges!
CASCADE
Instrumental signature tune, a slow burner with maximum musical input with smooth bass lines and ultra cool guitars
ECTRO-LUDE
Likened to Aphex Twin, this track is a melodic journey through the Hyper sound and should easy you out of this album in a smoke filled purple haze
[go home]
www.nekosite.co.uk - copyright © 1998-2005 by neko - all rights reserved