| | |
| --- | --- |
| | the prodigy summer tour 2001 - part1 |
avenches & bizarre
[part 2: lowlands & pukkelpop]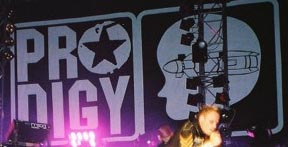 back to tourdates & live reviews
please note: those reviews were written without being in the posession of a live recording of the gig, everything is plain from memory, so please be aware that there might be some mistakes, even in the order of the tracklist. all pictures on this site are by neko from the bizarre festival. review by neko.
| | |
| --- | --- |
| | 17/8/01: Festival Rock Oz'Arenes 10ans, Avenches, Switzerland |
Its Thursday evening, 16th August 11pm. My friend AnnBritt from Denmark and me from London just arrive at my parents house in Switzerland. We're excited, very excited. Just 24hours left and The Prodigy will make their comeback after 2 years of no gigs, and about 4 years no real new material. And exactly Switzerland, the place where nothing ever happens, was 'chosen' to be the place where the big comeback would take place, at a small, quite unknown festival in the French part of Switzerland in Avenches, probably more of a warm-up for the real big shows.
Friday afternoon we, AnnBritt, my little sis and me, drive towards Avenches, which is just 2hours away from my hometown. We arrive in the small town and find the arena where the gig will take place immediately. The arena is infact a historic roman amphitheatre, and i can't quite believe how small it is. Capacity must be about 4000 to 5000 people and the main stage is about a third the size of the 2nd stage at Glastonbury. Nice, although I can't quite believe yet that The Prodigy will play here later on! The gig is sold out, many people are still desperately looking for tickets.
Just after 6pm the doors open and of course we head straight to the front. Only 5 hours left until The Prodigy will go on stage!
But first on are Tryo. They are described as playing 'French Reggea' and are indeed one of the most boring bands I have ever seen in my life. All i hope is that Prodigy dont turn up right now and see that crappy band band playing and then turn their backs and leave again. Tryo's horror is over at about 8.30pm and the stage is being changed now for the next band, Asian Dub Foundation. I've seen ADF a couple of times before, and I am really not all that keen to see them as I find them rather dull and boring as a live band.
Punctually at 9pm ADF enter the stage and at about the same moment it also starts to rain. It keeps raining for about 30 min and we are wet throughout now and aware of the fact that we will all have a cold next week, but under no circumstances we would leave our front row spaces now, just shortly before The Prodigy will go on the stage! Thankfully the rain stops again before 10pm.
10.30pm ADF finish their set and their equipment is taken away from the stage while The Prodigy's equipment is being brought onto the stage! Exciting! By that time i am also already told that there are new official Prodigy shirts being sold at the festival with a new logo on it, with a red star in the 'o'.
Liam's keyboards are rolled onto the stage. Looks as if he's got rid of the Southpark stickers and instead has got a backdrop with the new Prodigy logo on a tank. The drums also have that red star painted on them and the monitors next to where the guitars will be have a coloured ant logo on them and next to them another new 'logo' of Prodigy which is a head with a rocket inside.
Around 11pm we're told that there are no pictures allowed at all. All cameras would be confiscated. I guess it might be because the stage is so near the audience that every flash would really confuse those poor band members. So yeh, i decide not to bother at all with pictures at that gig.
At 11.30pm the lights go finally out and it seems as that the show will start soon. After two years of waiting those 30min more or less really don't make any difference anymore. And before you can think clearly they now run on stage. First Liam behind the keyboards and Kieron behind his drums and they start the show with a brandnew intro, an army style march, consisting of a combination of live drums and and drum machine. the intro fades into a bassline and then gets funky for a second and ends with a cheesy 80's sample (?) saying something like "I know that you and I will stay forever, forever, forever..."
Now with that sample it leads into Their Law, and at the same time the rest of the band jump on stage. Rest of the band are of course Maxim and Keith, but, surprise surprise, also a new woman on guitar! Their Law, in my opinion still the best live track in the world ever, now completely kicks off the show.
Their Law finishes and Liam starts what turns out to be a brandnew track with a (probably sampled) pianoline. Not one of those rave style piano lines, more a bit like you'd hear it played in a spoooky church. A sample comes with it going 'one, one, one, one' (not unlike the 'rhythm, rhythm, rhythm' from 'we eat rhythm' actually). The track is based on that pianoline, but contains very hard beats as well as lyrics by Maxim and Keith. They together shout something like "one...and the two to the three" and "one...and we shoot you in the face!" and "we pull the trigger!". As we later find out this brandnew track is actually called Trigger. Now this track also contains the new woman on guitar and I start to realize that I know her from somewhere, she just looks very familiar.

Next on is Breathe, of course still with Maxim and Keith both on stage. New for that track is that it also contains guitar now. And now it hits me, the new guitarist on stage is indeed Alli from Fifth Amendment! Now there's a surprise! Having seen Alli as singer of her own band Fifth Amendment before, I think she is a brilliant performer. At the same time she is not actually a 'replacement' for Gizz Butt, she seems to take up a completely different role in the live band. While Gizz was the extrovert guitarist, Alli is more the reserved, cool woman at the back. Brilliant!
Breathe finishes and Liam starts to play some new link, which then leads us into the beginning of Smack My Bitch Up. Alli leaves the stage but still both, Keith and Maxim, stay on the stage. After the departure of Leeroy Thornhill their roles have changed a bit and they are both now on the stage almost all of the time, which i think is a good thing. And although I hate saying this, but their constant presence on stage really fills any 'gap' Leeroy's departure left behind and the show's full of energy as ever.
It is also very easy to tell how much especially Maxim and Keith enjoy being back on the stage and Keith's facial expressions live just come accross better than you'd remember it from any live video whatsoever. Meanwhile Liam, as ever, is of course the reserved one, behind his keyboards, concentrated, sometimes clapping his hand and jumping with his 'kickboxing' trousers.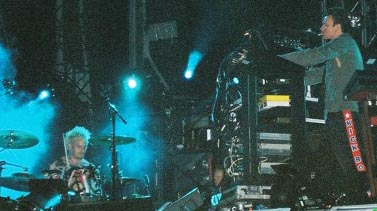 After SMBU a bit of the horn sounds from Climbatize fade in and out again and Mindfields gets played. This is the first time now Keith leaves the stage and its Maxim's turn to have the stage on his own.
After Mindfields also Keith and Alli come on stage again and another new track starts to play. As we later find out this track is called Nuclear and also has Keith and Maxim both on vocals. This track contains incredible beats and in pieces sounds a bit like a crossing of 'Pretty Vacant' by Sex Pistols and 'Feel good hit of the summer' by Queens of the Stone Age. Main theme of the song seems to be 'action - reaction' and Maxim and Keith sing something like "For every action, there's a reaction" in a very rhytmical way. Also the track contains a significant guitar part and all in all leads me to the conclusion that Liam doesn't have any intentions yet to go away from the 'guitar sound' and instead even takes it further. But at the same time, incredibly cool beats in that track!

Next is Poison and the very beginning sounds rather different than usually. Not quite a new version, more a tiny little mistake by Liam for once, and the beats at the start are a bit fucked up. During Poison Keith also runs down and throws one of the thrashcan filled with water into the crowd. Again this track is performed by keith and Maxim but does of course not have any live guitar.
Another new link now leads us into Firestarter. This is Keith's solo performance now, and Maxim leaves the stage again.
The band leave the stage, just to enter a few minutes later again and play the final encore, Fuel My Fire, ending with Keith actually throwing his microphone into the audience and then leaving.
So that was it then, 60 minutes - intense and short and just .... BRILLIANT!
This is more than just a gig, it is indeed Prodigy's comback, and the therefore the moment we have been waiting for for ages now! YESSS! They ARE back!
After the gig we now also meet up with Damon, some crazy Prodigy fan from the States who has come all the way from California to make it to those shows, so we've offered him to drive with us to the show in Germany.
And, yes, no rest yet after this exciting and exhausting evening, at about 2am we leave Avenches and I drive all the way up to Weeze.
| | |
| --- | --- |
| | 18/8/01: Bizarre Festival, Weeze, Germany |
Now with the help of endless many coffees, Chemical Bother's Surrender and Pitchshifter's www.pitchshifter.com as well as the excitement about seeing the Prodigy again the next day I managed to do those 9hours driving and we arrive in Weeze at 11am on 18th August. Weeze is tiny tiny place somewhere completely in the out of nowhere. The festival is huge, on a airport field, but funnily enough the directions to get there are so bad that we can't actually find the right entrance to get in. After 9h on German motorways it isn't exactly funny to get stuck in a mudfield with a Fiat Tipo. But finally we do find it and get to a huge parking field.
After putting up our tent we go for a walk around the festival. Its not the exactly nicest festival i have ever seen, the whole thing is located on an army airport and my new official piece of Prodigy merchandice, a German army shirt with the new Prodigy logo at the back and the German flags on the arms, just fits into the area perfectly. Although I am not quite sure yet what exactly The Prodigy, as a completely unpolitical band, want to express with that whole 'war'- and 'army' theme.
After some rest in the car and tent in the afternoon, we are finally heading towards the actual gig at about 4pm. This festival has barriers for the front area of the audience, so to get to the front you first have to get into this front area, which turns out not to be very easy at all. You have to get in from the side and since there's so many people wanting to get in, the security just tell us 'no one will get in anymore today, its too crowded'. So for about 1 hour we keep queuing and finally finally at about 5.30pm with my usually not so superb diplomatic skills, I can talk a security guy into letting me and my friends go into the front area, which is almost empty at that point anyway!
As we get in Green Day are on, not exactly my favourite band, but since we just got into the front finally and i realize how soon i gonna see The Prodigy again, i am actually so happy that i start to love this band. For a little while at least.
Next band on at 6.20pm are Queens of The Stone Age. Reminds me a bit of Rockwave '99 when they were also on at the same evening before The Prodigy. Thye're quite 'ok', but a bit dull and boring, just got two good songs. One of them is 'Feel good hit of the summer', funnily i had tried to sing that track all night to my friends in the car, since parts of it reminded me of Nuclear, a bit. I didn't realize thn that it was QUOTSA. After them it gets even duller. New Model Army, not really exactly my kind of music to be honest.
9. 20pm, Stone Temple Pilots. I can't say I'm a fan, but their performance isn't bad at all. Definitely the best performance apart from Prodigy we've seen in the two days.

But now the stage is being prepared for Prodigy and of course the excitement gets bigger and bigger. Bizarre is so huge compared to the small festival in Switzerland last night, the banner actually does fit at the back here. Also, next to the stage some new banners, some with the new star symbol on a green flag and some with a rocket with the ant symbol on it.

Surprisingly quickly the stage is being prepared for The Prodigy, and right on schedule just before 11pm the lights turn off and an excited crowd is shouting for Prodigy to enter the stage.

Shortly after 11pm they enter the stage, again with the same new 'army march' intro which then leads into the cheesy sample and kicks off Their Law.
The crowd reaction is huge! Everyone is jumping around and going completely crazy, and so is the band on stage. yeeeeeh, I get the feeling as if i could go to a Prodigy gig every night now, all the tiredness from driving is gone and Their Law gives me the ultimate adrenaline kick!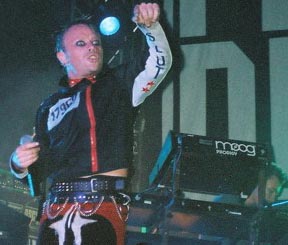 Again this is followed by Trigger, the new track with the "one...and the two to the three". This then followed by an amazing Breathe and next that new link again. Its is instrumental and sounds very downtempo, only at the end you can hear Maxim should something like "we keep it alive!"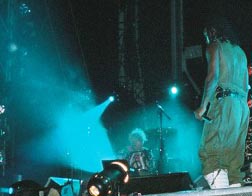 The link then of course leads again to SMBU and after that again Cilmbatize and Mindfields. This time during Mindfields Keith also stays on stage and with a waterbottle goes to the front and spits water into the crowd,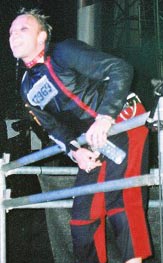 Now again Nuclear is played with the 'action - reaction', and I really start to love this track, it absolutely rocks!
Now another link is played, and Maxim concludes it with a speech that goes something like: "I can see the heads, but I can't hear the noise. I can see the bodies, but I dont get a reaction. I can see the faces, but I can't see the poison."
This, of course leads into the beginning of Poison! This is followed by Firestarter and although Keith doesn't get the lyrics completely right, the track still rocks!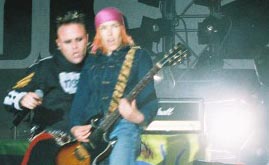 Now they all leave the stage and the audience is shouting for more. As they return I am pretty damn sure that they will just play Fuel My Fire now and then leave. But, holy shit, something completely else gets played now: CHARLY!!!!! Infact, just about 10 years after it was released, we get to hear Charly (alley cat mix) at this gig! this is quite a sensation, since to my knowledge they haven't played this track since 1995. It is great seeing them play Charly and the crowd actually goes quite mad when it is played.
Charly is being cut a bit short though and of course followed by the expected encore Fuel my Fire now. Again, this gig is short and intense, only about 60 minutes, but i guess thats what The Prodigy are about ... "one...and we shoot you in the face!"
Sunday we then drove again the 9hours back to Switzerland, adding it all up to 1700km driving the car for me. Monday morning first plane back to London and straight back to work, yay. And, i'll be at Lowlands and Pukkelpop next weekend, definitely should be good!!!!
[part 2: lowlands & pukkelpop]
many thanks to The Prodigy & Midi Management
www.nekosite.co.uk - copyright © 1998-2001 by neko - all rights reserved