| | |
| --- | --- |
| | always outnumbered never outgunned |
The new Prodigy album ...

01. Spitfire (with Juliette Lewis)
02. Girls (with vocals by The Ping Pong Bitches)
03. Memphis Bells (with Princess Superstar)
04. Get Up Get Off (with Twista & Shahin Badar)
05. Hot Ride (with Juliette Lewis)
06. Wake Up Call (with Kool Keith)
07. Action Radar (with Paul Jackson from Dirt Candy)
08. Medusa's Path (instrumental)
09. Phoenix (with sample from Shocking Blue's 1969 track Love Buzz)
10. You'll Be under my wheels
11. The Way It Is (with recreated sample of Michael Jackson's Thriller)
12. Shoot Down (with Liam Gallagher)
14th October 2004: Liam Howlett interviewed by nekosite again [HERE]
2nd July 2004: Q Magazine has got a track listing of all tracks on the album with comments by Liam. Chck it out [HERE]
30th April 2004: Find a statement by Liam Howlett about that the album has been finished and what it sounds like [HERE]
7th January 2004: Read the interview with Liam Howlett by neko where the first details about the new album in the making are revealed [HERE]
album release Date:
UK & rest of the world: 23rd August 2004
USA: 14th September 2004
Japan: 11th August 2004
Thanks to Ayako for the Japanese scans
Singles
Girls: 30th August 2004 [more details]
No Souvenirs
The much talked about collaboration with Rob del Naja does not appear to be on the album.
Nuclear / Trigger
Liam stated that parts of these tracks (live tracks from 2001) would appear on some of the new tracks on the album, but the actual tracks are not going to be released.
Baby's got a Temper
This will not be on the album. Liam explains this in the interview from January [HERE]
Sandstorm, Slang Technology, The Gun etc
It is likely that some of the tracks Liam mentioned in the interview in January got either renamed or even dropped.
Ice became Memphis Bells
I Hate You became Get Up Get Off
Wake Up became Wake Up Call
Action became Action Radar
Sandstorm became Medusa's Path
Love Buzz became 1965 then became Phoenix
The Gun became Shootdown
Slang Technology is rumourred to be a possible future B-Side
Good Morning
Another collaboration with Juliette Lewis - might be released in a movie sound track in 2005.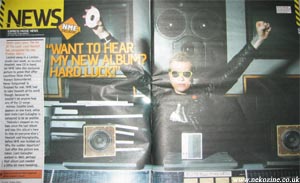 scan taken from NME 8th may 2004
XL Recordings www.xlrecordings.com/prodigy
NME June 2004 www.nme.com/news/108784.htm
NME May 2004 www.nme.com/news/108388.htm
[go home]
www.nekosite.co.uk - copyright © 1998-2004 by neko - all rights reserved