| | |
| --- | --- |
| | Part 1: The hours before the gig and the soundcheck! [ 1 / 2 / 3 ] |
I never realized Sofia (capital of Bulgaria) was so much south, untill I looked at the map in the plane Zurich-Sofia. hrrrm, shouldnt have brought the leatherjacket then. I was far too excited to worry, it was friday 27th August, the next day I would see The Prodigy live in Sofia, but now I would be picked up by Nikola Petranov, my icq-friend and Webmaster of the 'Addicted to Prodigy'- site.
Finally through the passport control and baggage claim I went trough the exit, and first saw hundreds of people, but finally spotted Nikola. We said hi, but as soon as I could think I had this TV camera in front of my face. I thought that must be a mistake, but no, they were at the airport to interview Prodigy fans and they had heard about my homepage (from Nikola) and wanted to ask me some questions. Weird. If I did my page all alone, they wanted to know, and for how long I had been a Prodigy fan.... then they even wanted to know if I think that The Prodigy guys are really 'so scary' as they seem.... hrrrrmmm, weird.
Next day was THE DAY! Saturday 28th August, we would see The Prodigy live!
Nikola and I went to the stadion already at about 2pm, where we could see them already setting up the stage. We also noticed that the stage was built very close to the tribune, so there wouldnt be that much space for standing crowd. There was again the 'flat eric' poster on one of the keyboards, but also a Southpark sticker now! Again, it was amazing already to see the keyboards and everything :-)
Later Nikola was meeting some friends and I went back to the hotel to get ready for the gig. I got ready pretty fast and was at the stadium already at 4.30 pm and since there was nothing better to do I decided to go in. I noticed the security checks were much harder now, I had to show my pass about 5 times untill I got in.
you can click on each picture to see it full-size
So I just walked over the grass, daydreaming, untill I finally looked towards the stage, damn, this was Keith up there!!

Oh, and behind the keyboards was Liam, and on drums Kieron!
Ooops, I really didnt expect to see them before 10pm or later, so this was really surprising! Of course now I went closer towards the stage while Liam was playing some wicked beats and Keith was some sort of dancing around. Liam was wearing once again a Clash T-Shirt and Keith a baseball cap. I took a pic, but some security guy came and told me I wasnt allowed to. "ok ok", I was far too excited to care.
Now the most unexpected ever happened. Liam was looking at me and stopped to play and laughed. "Are you neko? You've got a website havent you?", he said . I didnt know what to say........:"errrrrm, yes.....but,..... how do you know?". "you are the girl who gave me those pics in Greece, arent you?" "errrm, yes....thats me.." "I was looking on your page the other day and saw the Gatecrasher pictures you gave me" "oooh.......". Well, anyhow then he told Keith that I had been at all his DJ dates and stuff, and they wanted me to come on stage. So I found myself on stage with them, Liam and Keith said hello and then I watched the rest of the Soundcheck from stage! Liam said "yeah, just take some pics for your website", so I did :-)
you can click on each picture to see it full-size
Watching their soundcheck even from stage was just cool, a dream of every Prodigy fan coming true. Keith was now behind the mixing desk, and Liam continued to play. Now suddenly also Maxim walked on stage, sitting down and then joining Liam behind the keyboards. The whole atmosphere was really relaxed, everybody was joking around. I was just standing at the side, looking at everything more than interested, since it was obviously the first time I had seen THEM doing a soundcheck!
you can click on each picture to see it full-size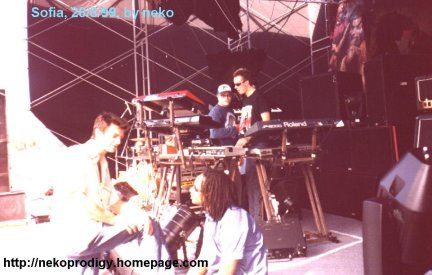 They now also checked the guitar, and afterwards Liam was sitting behind the drums and showed some superb skills at the drumkit!
Now they were supposed to leave again, but before that I had a short chat with Liam and Keith about the Internet (they still dont like it at all, by the way :-) and Liam found out "You must be Internet mad", I was just laughing but probably he was even right. But at least they didnt hate me for that.....Keith took a pic of Liam and me and I was offered to watch the show from the side of the stage. Kieron also said hi and remembered me from Athens, but nothing could surprise me anymore that day.
Well, so much about the 'scary guys' as the Bulgarian TV people have suggested it. :)
Countdown
Now already quite a few people were waiting outside for the doors to open, at least 90% wearing a Prodigy T-Shirt. I of course decided to watch the show from the front row, as always :) So we were alreay waiting there just before they let the people come in at 7pm. Everybody was running to the front and very soon the space became rare. Now the first warm up act came on stage, the Bulgarian DJ duo 'Mindstorm'. They were ok in the beginnning and the crowd alredy started to jump a few times, but they soon got boring and of course all we wanted to see was The Prodigy! After about 90 min the next supportband came on stake: 'Fake', also from Bulgaria. They were not bad at all, somehow (strangely) they kinda reminded me of Underworld, although their music was much harder. Everybody started to scream 'Prodigy, Prodigy, Prodigy', but of course, Fake played their set. Soon I spotted that Prodigy had arrived and they were watching Fake from the side of the stage. As people spotted them they of course started to scream for them even more. Finally Fake had finished their set and the last preparations for The Prodigy gig were made on stage. Huge Excitement in the crowd, you almost couldnt breathe anymore in the front, and the very weird fence didnt really help us much.
At 10pm the lights went dark and: " Sofia, do you fuckin want it? From the UK,....... its The Prodigy!!"
[go home]
www.nekosite.co.uk - copyright © 1998-2001 by neko - all rights reserved